Say goodbye to oily, dried stains and countless hours of scrubbing of your air fryer!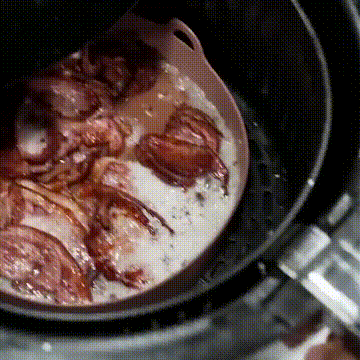 Thoughtfully designed with dozens of soft silicone lines for better air circulation and even heat distribution to cook your foods to perfection in less time! Experience all the improved features to allow even easier cleaning than ever before.
FEATURES

✔️ An Indispensable Air Fryer Accessory - Enjoy healthy and delicious fried foods without sticky and burned residue with AIR FRYER POT.
✔️ Cleaning is a Breeze - Keeps your air fryer free from food residue, grease, and grime without compromising the life span of your air fryer. Completely dishwasher safe, allowing you to avoid the trouble of hand washing.
✔️ Cost-Saving Alternative - Still using disposable parchment paper? A worthy one-time investment will be rewarded by an eco-friendly & safe alternative. Keeps your food fresh and refrains from any unnecessary fire hazards on highly flammable parchment papers!
✔️ Best in Quality & Safety - Made from the highest quality medical-grade silicone. Non-stick, non-toxic, BPA free, high heat resistant material that withstands up to 450°F.