Keep your closet organized with this Multifunctional  Rack!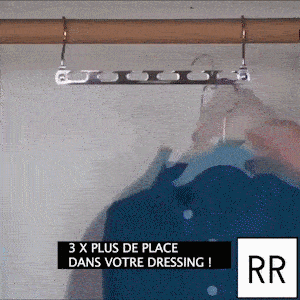 Magic space - saving clothes hangers, smart closet organizers and storage for heavy-duty clothes, versatile design, and an essential closet organizer. Its reinforced structure built from heavy-duty reinforced plastic is made to last, durable enough to hang heavy winter clothes. It can be used as a plastic hanger for drying clothes, pants, tie coats, and T-shirts, etc.

FEATURES
✅ Durable Closet Organizer - Made of durable plastics. Every hanger organizer can hold 12 garments horizontally and 6 garments vertically, supporting up to 30 lbs. It's great for hanging your coat, suit, jacket, sweater, shirt, pants, jeans, dress, purse, or accessories.
✅ Newly Designed Space Saving Hanger - Each clothing hanger has 6 slots to prevent clothes from slipping and falling, and each slot holds 2 hangers. Our cascading hangers also feature swiveling 360-degree rotating hooks with a wide diameter to fit a large range of closet rack rods.
✅ Space Saving Clothes Hangers - Don't worry about your most valued clothes, our magic hangers can help you organize your closet, so you can easily find your favorite dress. Perfect for downsizing: rooms, dorms, and apartments with limited storage space. You can store multiple garments on a single magic hanger rack, keeping clothes organized and wrinkle-free.
✅ Take Care Of Your Clothes - To protect your hands and valuable clothes, we've smoothed and beveled the edges. There are no burrs or sharp edges, so don't worry about damaging, or creasing your clothes.