Kitchen And Grill Utensil Holder
EXPERIENCE MESS-FREE COOKING!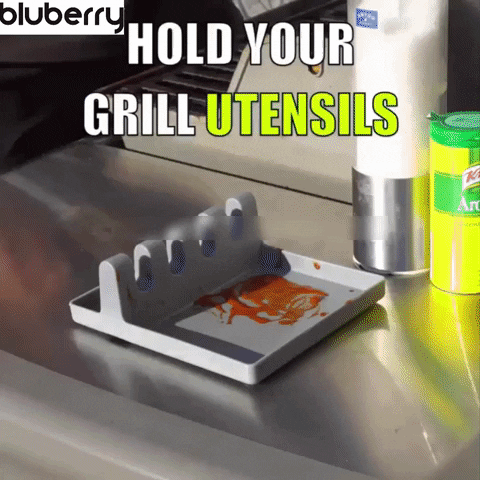 FEATURES
✅ ENJOY A NICE & CLEAN COUNTERTOP: Start cooking like a pro with our universal silicone utensil rest! Maximize your counter space and minimize the mess by keeping all your cooking or grilling utensils neatly organized in your kitchen workspace. You will absolutely love cooking with our Kitchen And Grill Utensil Holder!
✅ QUALITY MATERIAL: Made from a durable, dishwasher-friendly, food-grade silicone, our sturdy space-friendly spoon rack is the ideal tool to keep counters neat and organized while cooking. The silicone material ensures that food washes off easily, making clean-up a breeze with or without a dishwasher. The flexible material ensures that this kitchen utensil holder will hold up to heavy-duty usage for years to come without shattering or cracking as most ceramic spoon rests.
✅ MULTIPLE UTENSIL TYPES: Our kitchen counter spoon rest is the ideal choice for not only spoons, but tongs, ladles, spatulas, and more. A wonderful alternative to wasting paper plates or paper towels, this utensil rest is simply perfect for keeping everything separated when working with different ingredients. Each spoon rest can hold up to four cooking utensils at once - there's a spot for every piece of cookware you need.
✅ RAISED EDGES: Each kitchen spoon holder is ergonomically designed to keep your kitchen counter drip-free and tidy. Raised edges prevent any spillage so you can focus on cooking instead of cleaning.
✅ GREAT FOR GIFTING: This is an amazing tool that many home chefs may not even think to purchase for themselves. A proper stovetop spoon holder could be an excellent housewarming gift. Treat someone special to a practical gift that they'll appreciate every time they look at their sparkling clean counter!