Multi-functional Heavy Duty Clip (10pcs)
With this clip, any gale will not be a trouble for your beautiful outdoor camping time!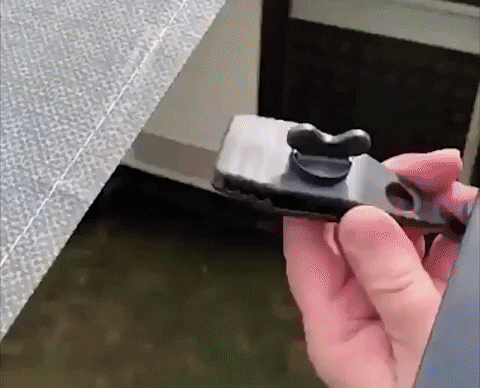 The unique toothed crocodile mouth design makes the teeth more stable. Designed with adjustable helical thumbscrews, the mouth can be opened approximately 0.25 inches to fit the heavy-duty tarp.

FEATURES

✔ DURABLE MATERIAL: The tarp clips heavy-duty lock grip made of durable PA material, waterproof, weather-resistant, tear-resistant, breakage-proof, lightweight, and durable.

✔ EASY TO USE: The tent clips very easy to install and remove, just tighten or loosen the thumbscrew to adjust on thick or thin tarps.

✔ STRONG GRIPPING POWER: Designed with adjustable thumb screw tent clamps that can provide stronger holding power. Alligator mouths can open about 0.5 inches, perfect for heavy-duty tarps.

✔ MULTIPURPOSE CLIPS: 10 pack multipurpose reusable clips use in your tarp, make it more stable under inclement weather conditions. It can also use for all of your outdoor camping tents, awning, caravan, tarps, canvas, awnings, boat covers, swimming pool covers, temporary shelters, or any fabric cover needing extra hold down points, etc.

✔ A MUST HAVE OUTDOORS CAMPING TOOLS: The lightweight feature means you can carry it anywhere. The clip hole is 0.5 inches in diameter so you can attach it with the standard bungee cord, tie-down, or rope. A great outdoors camping tool for any camping enthusiast.