Universal Car Window Shade
PROTECT YOUR KIDS, PETS, AND DELICATE ITEMS FROM UV RAYS. HEAT AND INSECTS!!
Our car sunshade has a high-quality double mesh layer that can block sunlight, reject the harmful UV Rays, and sun glare to protect your kid's and pets' skin & eyes.
FEATURES
✅ HIGH QUALITY - This material made of Nylon and spandex, It includes heavy-duty rubber, provides 100% shading protection for you and your family from the sun, and insects too.
✅ SAFE & CONVENIENT - It easy to install, uninstall and organize, just open the door, cover the car window, and stick it with Velcro. The opaque sunshade can protect privacy to a certain extent but does not affect your vision.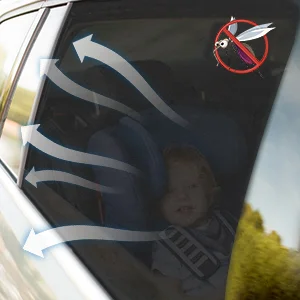 ✅ EASY TO USE - The car window shade is light and easy to fold. When not in use, they can be neatly stuffed into your car storage box. These soft mesh car window screens can be machine-washed or hand-washed, easy to clean.
✅ FITS MORE CARS - The car shades is stretchable and durable. Highly fit various car windows. Widely compatible with most passenger cars, SUVs, and trucks. It does not fit cars with a sliding door, Buses, or Heavy-duty type of vehicles.