Universal Wheel Rim Reflective Stickers
Upgrade Your Wheels With This DIY Universal Wheel Rim Reflective Stickers ✨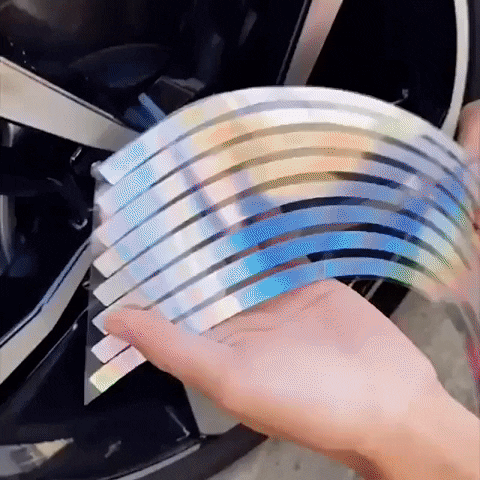 FEATURES:
✅ Reflective Material - This reflective sticker is made of PET material, has strong adhesion, will not crack, fade and peel, and has a waterproof function to make the sticker more durable.
✅ Improve Safety - The sticker has a good reflective effect and can reflect any light source. It is like a 'luminous circle', which gives people a different visual experience and also improves safety at night while driving.
✅ Easy to Install - It has been made into a curved shape, which fits the round rim very well. You can stick it directly on the rim of a car, motorcycle, or bicycle very conveniently.
✅ Universal - It is suitable for 14-inch cars, motorcycles, and bicycle rims. A set of 16 strips, but 4pcs is enough for one rim, so you can be creative as much as you want!
✅ Various Options - This reflective strip sticker has a 5 variety of colors for you to choose from. You can match your car with your favorite color or just combine two colors or more for a unique style!