Web Shooter is the only superhero gadget you didn't know you needed!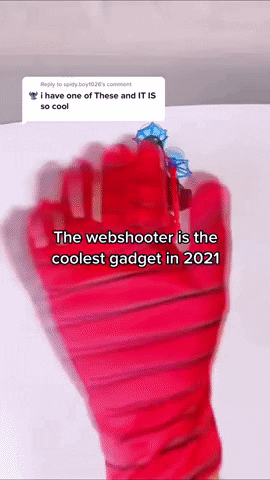 Perfect your aim with target practice or playing "superhero" with friends. Stick to anything, and channel your inner superhero. No matter what you do, you'll never find anything more fun.

FEATURES
✅ Hero Spiderman Inspired Design - Spider-Man repeatedly launches a spider web to save the dangerous city and is adored by a large number of people. This launcher is specifically designed for Spider-Man fans, and it goes perfectly with a cosplay costume! Even more incredible!
✅ Premium Material - The projectile has a suction cup on the top that is not harmful to the human body. It is both safe and simple to use. You can launch it against glass or the ground, and the suction cup will suck on the glass or the ground, which is very interesting.
✅ Unique Design & Size - This launcher glove has a creative design that will make you look more heroic like in movies after you wear it, very cool!
✅ Fans of Super-Heroes - Children can imagine themselves as their favorite online heroes. Wearing it, you can recreate the scene in the movie where Spider-Man launches spider silk. It is a must-have item for movie buffs.

✅ Stimulate Imagination and Creativity - Children may enjoy playing with their companions. Children can imagine themselves as their favorite online heroes by using our popular hero toys, which stimulates children's adoration of heroes. They can join their friends in a role-playing game.